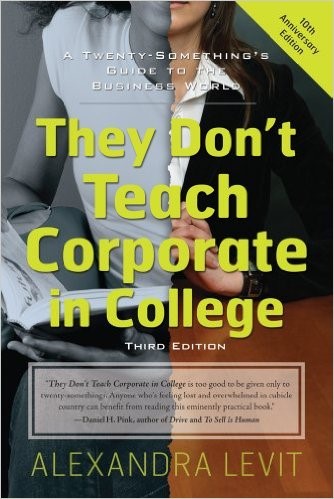 ---
Author: Alexandra Levit
Length: 240 pages
Intent/Focus: A must-have guide to success in the corporate world, for college students, recent grads and twenty-somethings readying themselves for career success.
What You Will Learn: Tips for traversing the corporate world with professionalism and panache – and coming out on top.
Why We Recommend It: They Don't Teach Corporate in College aligns with Envision's mission to provide students with the resources for college and career success. This book helps high school students better understand the corporate environment as they prepare to make their career aspirations a reality.
Summary: This most recent edition of They Don't Teach Corporate in College reflects the unique needs and challenges of new grads and twenty-somethings who want to make a difference right now, but need deeper insight into making it happen. Published in September 2004, this book is currently used as a text in corporations and universities across the country.
The 10 chapters in this book cover a wide range of important guidelines for inexperienced job-seekers as well as any young person focused on career management. The title of the book summarizes its value, since, as the author points out, the corporate world is nothing like academia. "You come up against rules no one ever told us about." Written from the perspective of a wise older sister who doesn't want you to learn the hard way, the book provides personal anecdotes and specific tips for success.
Here is a quick summary of the chapter contents:
Chapter 1: Find Yourself. Find a Paycheck – finding occupations that match your skills and interests
Chapter 2: Congratulations. You're Hired – creating a good first impression at your new company
Chapter 3: Working the Crowd – work relationships, mentorships and office politics
Chapter 4: Be the Master of Your Plan – goal-setting and showcasing your accomplishments
Chapter 5: The Purposeful Workday – managing your workload and business communications
Chapter 6: Check Your Attitude at the Door – combating negativism and staying motivated
Chapter 7: People Management – getting along with coworkers
Chapter 8: Moving Up in the World – scheduling and maximizing performance reviews
Chapter 9: You're the Boss Now! – how to be a good manager
Chapter 10: Exit Stage Left – how to leave your current employer without burning bridges
Other sage advice found in the book:
Landing your dream job by avoiding the HR black hole
Developing your professional image and reputation
Becoming your own public-relations machine
Learning the real meaning behind corporate lingo
Dealing with corporate reorganizations
Navigating the office social scene and practicing cringe-free networking
Combating negativity and coping with difficult personalities
The Reviews
In his article in Quintessential Careers, educator and Ph.D. Randall S. Hansen said, "The book is well organized, written with a breezy style, and packed with some great advice. I also love the many vignettes from younger job-seekers who have faced the many challenges Levit highlights in the book.
Daniel H. Pink, author of another recommended book, Drive, said, "They Don't Teach Corporate in College is too good to be given only to the twenty-somethings. Anyone who's feeling lost and overwhelmed in cubicle country can benefit from reading this eminently practical book."
In the many 5-star reviews from readers, we see quotes such as:
"[The author] gives the reader confidence and a new outlook because she does not just provide comforting words. She elucidates her point with concrete examples."
"This is a great resource for anyone entering Corporate America… One might think the information is 'common sense', but too often we don't use common sense until someone makes the 'light bulb' go off. Alexandra does this beautifully!"
From a college professor:
"Alexandra Levit is right on the mark with this book. I have incorporated this book into my class discussions and the students will be more prepared for the corporate world because of it!"
About the Author
Alexandra Levit is a former nationally-syndicated columnist for the Wall Street Journal and a current writer for the New York Times, as well as the author of several books. She consults on leadership development and career and workplace trends on behalf of American Express, Deloitte, DeVry University, Intuit and PepsiCo, among others. An American Management Association Top Business Leader for 2014, she was named Money Magazine's Online Career Expert of the Year.
Reference: https://www.envisionexperience.com/blog/book-review-they-dont-teach-corporate-in-college-for-students