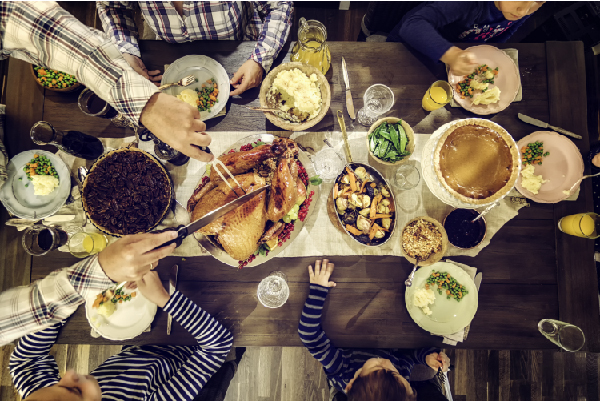 ---
Pilgrims, Native Americans, turkeys… these symbols of Thanksgiving are deeply ingrained in American culture. But did you know Thanksgiving is also celebrated in other countries? Many of these traditions originated long before the Pilgrims landed in Plimoth. Giving thanks for a fruitful harvest is the main purpose of most of these celebrations, but a few have interesting twists of their own.
China
The Chinese celebrate in the August timeframe – on the 15th day of their calendar's 8th lunar month. Here the tradition dates back more than 2,500 years, and focuses on the moon, which the ancient Chinese realized was connected to seasonal change and agricultural production. Mooncakes, containing a symbolic moon-like egg yolk, are the traditional food. Women are also honored, for their connection to fertility and nurturing.
Korea
In Korea, Chu-Sok or Chuseok ("fall evening") is the country's biggest holiday. It lasts for 3 days in August or September, and is an opportunity to honor one's ancestors, as well as give thanks for the earth's bounty. "Songpyon" is the traditional Chuseok dish, made of rice, beans, sesame seeds and chestnuts.
Japan
Kinrō Kansha no Hi, which means Labor Thanksgiving Day, is celebrated in Japan on November 23. Although this holiday was derived from ancient harvest festivals, the modern version, officially created in 1948, focuses on hard work, productivity and community involvement. The original intent was to celebrate the rights of post-World War II workers. Traditions for students include creating crafts and gifts for local police officers.
Germany
Turkeys can breathe a little easier in Germany, where chickens and geese are the favorite entrée during Erntedankfest, an autumn harvest festival also celebrated in parts of Austria and Switzerland. Erntedankfest is a religious holiday, with church services as well as parades and fairs. Parade participants often wear harvest crowns made of grain, flowers and fruit.
In some countries, Thanksgiving has surprising connections to the U.S.:
Grenada
Is a military invasion something to celebrate? In Grenada the answer is yes, as residents honor the Americans who invaded in October 1983, to restore order after the death of communist leader Maurice Bishop. The American soldiers stationed in Granada were sad to be away from home at Thanksgiving, and they shared their holiday stories with the locals. In gratitude for the Americans' efforts and sacrifice at this holiday time, the locals planned a wonderful surprise – a feast with turkey and all the fixings. Today, the tradition continues, celebrated every October 25.
Norfolk Island
Norkfolk is a tiny, remote island, near Australia. There Thanksgiving is connected to American whalers, versus soldiers or pilgrims. In the mid-1890s, an American trader named Isaac Robinson suggested that the local residents decorate their church with palm leaves and lemons, in order to attract whalers to a Thanksgiving celebration. The tradition caught on, and every November families decorate the churches with fruit, vegetables, cornstalks and fresh flowers, which are later sold to raise money for the church.
Netherlands
The Dutch Thanksgiving is directly tied to the American tradition, because approximately 40% of the original Mayflower pilgrims came from the Dutch city of Leiden. Every November, when Americans are celebrating, the people of Leiden gather in a 900-year-old church called Pieterskerk, to celebrate the endeavors of those early American colonists.
The countries mentioned here are by no means the only examples of our human desire to reflect with gratitude on the blessings in our lives and the gifts from our planet. We citizens of the Earth are joined by this common gratitude and the planet we share.
Reference: https://www.envisionexperience.com/blog/is-thanksgiving-an-american-thing